Heaters & Stoves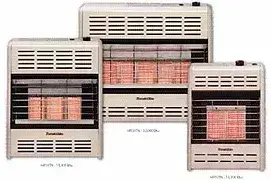 Infrared Wall Mount or Standing Heaters
The American Society of Heating, Refrigerating, and Air-Conditioning Engineers has found infrared heaters can reduce the required heat needed to maintain a comfortable temperature in a building (heat load), by at least 15 percent. These heaters can achieve these savings by providing focused warmth where it is needed most, which helps to reduce the need to warm the air in the entire space.
These propane heaters are especially good at keeping main living areas warm while letting other, lesser used rooms be at a lower temperature. They are also a good choice for warming areas that are not well insulated such as shop buildings, garages, livestock barns, and more.
We sell the entire line of Hearthrite propane vented and vent-free heaters. We have a variety of options of infrared and blue-flame heaters that will work with most any area size and budget. Come in to either our Pryor or Wagoner locations or give us a call to discuss. We keep a few different heaters in stock but can order alomst anything you need.
---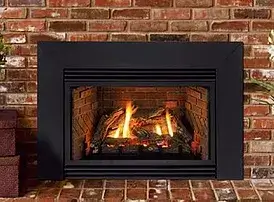 Fireplace Inserts
Unlike old decorative gas fireplaces, today's gas inserts are heat-producing dynamos that use propane to power a steady flame dancing on ceramic logs, decorative modern glass chips, or stones behind a sealed glass face.
Propane is the easiest insert to use and requires very little maintenance beyond the annual cleaning. Flip a switch; have fire. Its best application is for zone heating—turning up the gas in the room you're in and lowering the thermostat in the rest of your house.
We sell vented and vent-free Empire fireplace inserts. Click here to explore their White Mountain Hearth brand of fireplace inserts or give us a call for more information.
---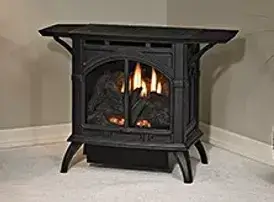 Cast Iron Propane Stoves
We are authorized to sell the full range of Empire Cast Iron Stoves. These stoves are excellent for providing reliable heat and added beauty to any room. Many have electric fans to help distribute the heat but are still fully functional (minus fan assist) should the power go out.
These stoves are available with two types of ignitions – Millivolt (MV) and Intermittent Pilot (IP). The Millivolt system has a standing pilot with a pushbutton ignitor. Once the standing pilot is lit, the MV system operates with an on/off switch concealed on the back of the stove or with one of Empire's optional remote control systems.
IP systems eliminate the standing pilot for even greater energy savings. Pressing the on/off switch ignites the pilot, which then ignites the main burner. IP systems can also operate with an optional remote control system.
Choose from two sizes and up to five colors – such as rich porcelain, matte pewter, and matte black.